NEWS PAGE
FEBRUARY 2024 'BLING WORKSHOP' with CONNIE RISBEY
APAT WA will hold a three-day workshop next February with artist and APAT member Connie Risbey. It will be held at McDougal House, Como on Saturday 24th to Monday 26th February, 2023, between 9:30am and 3:30pm daily.
Titled 'The Bling Workshop' various ways to decorate jewellery will be shown, particularly pendants. Also covered will be the decoration of small lidded boxes. Techniques demonstrated will include application of lustre, tube lining for raised effect, making texture paste balls, use of decal sheets as well as painting and relief work. Pieces can be finished with glued on decorations.

The fee for the three days is $100 for members ($150 for non-APAT members). For any further information contact us or to reserve a place i please forward your payment to Treasurer Carolyn Pollitt.
---
APAT 2024 AUSTRALASIAN EXHIBITION & CONVENTION

Preparations are underway for the 'Fired Up' 2024 Australasian Porcelain Art Teachers Exhibition and Convention hosted by APAT NSW. The convention will take place from 23rd and 26th October 2024 in Cronulla at the Rydges Cronulla Beachside Hotel.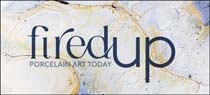 More information will be posted as it becomes available. In addition APAT NSW have launched a website exclusively dedicated to the 2024 Australasian Convention:
The website is easy to navigate and will keep those interested up to date with the latest information.
The first edition of 'Fired Up' - Open Medium Magazine was distributed to members in mid-May. Any WA members who did not received their magazine, please contact us. We look forward with anticipation to the release of the guest artists and further information.
---
APAT JULY 3-DAY WORKSHOP with BARBARA CRONIN
APAT held a 3-day workshop in July with Albany artist and APAT member Barbara Cronin. It was held at McDougal House in Como on y 22nd to 24th July, 2023.
President Dee Credaro gave the following report on the workshop:
"Our July workshop with the amazing Barb Cronin, painting flowers with a contemporary background, was enthusiastically received and thoroughly enjoyed. Twelve participants benefited from her generous sharing of many different techniques over the three days. Most of the participants were newer porcelain painters and I am  hoping this is a sign of things to come.

Thanks to Barb for her endless patience and sunny nature, and to all of the ladies who took part and helped out in various ways throughout  the three days - three days of learning, connections and overall great fun!"
Image shown above iris plate painted by Barbara Cronin. For any further information contact us.
---
'CONNECTIONS' - PAWA EXHIBIITON MAY 2023
The Porcelain Artists of WA (formerly the WA Guild of China Painters) held its annual exhibition and sale of work at the Palms Community Centre, Subiaco on Saturday 6th and Sunday 7th May. The theme for the 2023 exhibition was 'Connections'.
 A large number of hand painted porcelain pieces were on display, both traditional and modern designs, with a wide variety of subject matter. Artists from both Metro and Country areas participated including many APAT members. Despite competition from HM King Charles III and the weather, the exhibition received many visitors.
Members were invited to paint a collection of up to ten pieces interpreting the Connections theme. This year PAWA introduced a special award for the best collection in the Exhibition section. The winning award went to 'Fantasy' A collection by Irena Kopec. There was also a special display of vintage pieces called 'Collectors' Corner' - the display featured pieces painted prior to 2015. 
Shown above right: exhibition pieces painted by Lucy Bertilone
Shown below L to R: Numbats by Barbara Cronin; 'Coffee Break' collection by Carolyn Pollitt; Under Busselton Jetty by Anne Blake; Redback Spiders by Anne Blake.
Congratulations to the President and Committee of PAWA for a beautiful display and exhibition! For more information about PAWA contact their Secretary on 9330 4909 or find them on Facebook.
More photos and commentary is available on the website of Anne Blake visit - www.anneblake.com.
---
2023 ALBANY PORCELAIN ART WORKSHOP
The Albany Porcelain Art Workshop group held their 2023 three-day workshop on Tuesday 21st, Wednesday 22nd and Thursday 23rd March, 2023 at the clubhouse of the Albany Veteran Car Club in Albany. Two classes ran concurrently, teachers and their subjects are as follows:
Dee Credaro – Busselton
Marsupial Animals – Kangaroos, Quokkas or student's choice

Anne Blake – Perth
Aussie Bush Huts - monochrome design featuring penwork & techniques

Congratulations and thanks goes to President Brenda Caelli and all the Albany Committee for yet another well organised and successful event. Classes were well attended and students completed some excellent work and most importantly all seemed to enjoy the experience.
To read a longer in-depth article with additional photos from the workshop visit Anne's website at www.anneblake.com or contact us.
Shown above right Dee Credaro and 'Kelly' preparing for class; above left Bush Hut plate hand painted by Anne Blake finished using speckled metallic grounding.
---
APAT 3-DAY PORCELAIN ART WORKSHOP
In mid-March, APAT held a three-day workshop for 'beginners and up' at the Busselton Art Society work rooms, Queen Street, Busselton. Three teachers conductied the workshop and were on hand each day - Dee Credaro, Carolyn Pollitt and Aileen Alder. The subjects covered included 'Faces in Focus', Grapes and Lustre Dipping. To download a copy of the information notes click here.
Workshop description from Dee Credaro:

"Our aim with this workshop is to inspire, motivate and share knowledge and ideas with beginners, and more advanced students. By having three tutors you will be able to get more one-on-one time and a greater diversity of ideas and information. Basically we want to share the porcelain love..."
For any additional information Contact Us.
---
CHANGES TO APAT-WA MEMBERSHIP CATEGORIES
At the February AGM members voted to change the membership categories of APAT-WA. Full membership i.e. members actively teaching remains unchanged. The categories of Associate Member and Friend of APAT have been discontinued and replaced by Affiliate Membership.
To read more or to download applications forms visit the About Us page.
---
'PETALS & FUR - LOCAL AUSTRALIANA'
APAT WA 2022 Exhibition
APAT WA held its exhibition and sale of work, 'Petals & Fur - Local Australiana' in the south-west City of Busselton, WA. The venue was the historic Old Court House in the ArtGeo Complex, Busselton.
The exhibition featured hand painted porcelain art from members of the Australasian Porcelain Art Teachers Association. A wide variety of subject matter was on display including wildflowers, animals, birds, fish, insects and more. Many hours of work, individual style and techniques ensured each piece on display was original and unique. Artists were on hand daily to answer questions from the public about the art.
To read additional article and view more photos from the exhibition follow this link:

If you require any further information please contact us.
---
'SILHOUETTES' WORKSHOP with ANNE BLAKE
APAT WA held a three day workshop with guest artist Anne Blake between the 12th and 14th February. The workshop, titled 'Silhouettes' was held at McDougal House in Como across what proved to be three very hot days.

The subject was handled enthusiastically by the students who chose a diverse range of subjects to feature as their silhouette. Once a subject had been decided upon the design was enhanced using products such as liquid bright gold, textures pastes and/or lustre finishes to give each design contrast and impact. The class was good humoured and friendly with both experienced and some novice painters. Some beautiful work was produced by these talented ladies!
To read more about the class, follow the above link to a special news page which has more comment and photographs.
Shown above: Ruth & Zilla busy at the class; Wren Silhouette plate by Anne Blake.