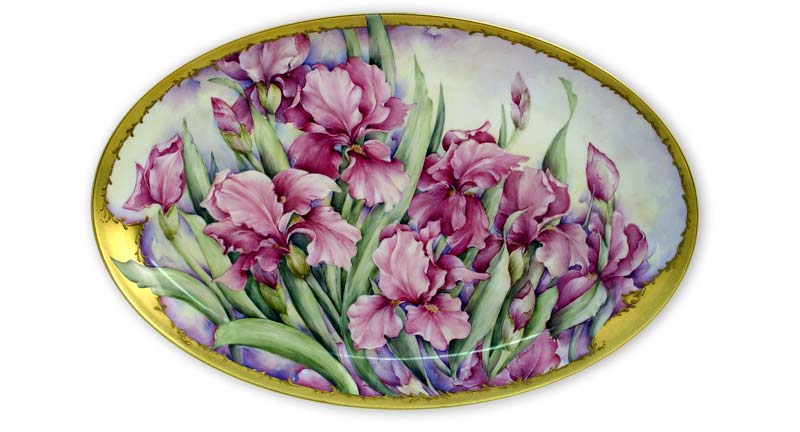 APAT Western Australia is a not-for-profit association and affiliated member of the Australasian Porcelain Art Teachers Association.
A not-for-profit organisation, it was formed in 1967 to support teachers of china painting in Western Australia. Its mission is to foster closer relationships between teachers and to hold working exhibitions aimed at producing higher standards, the adoption of new products and techniques and to generally improve the art of porcelain painting.
Having an active committee, APAT WA holds regular meetings, publishes six newsletters per year, organises porcelain painting workshops and holds exhibitions and sales of work including their bi-annual regional exhibition.
APAT WA welcomes enquiries regarding membership - full, associate and 'Friends' of APAT. For more information see the About Page or Contact Us.
shown above Irises Platter by Judith Standing

RECENTLY ADDED TO SITE
APAT WA 2022 Exhibition - 'Petals & Fur - Local Australiana'
The Australasian Porcelain Art Teachers of WA will hold its 2022 Exhibition and sale of work in Busselton WA from 26th November to 4th December this year. The theme for the exhibition is 'Petals and Fur - Local Australian'. Follow this link for more details.

APAT WA July Workshop with Dee Credaro
Busselton artist Dee Credaro held a two-day workshop in Perth on 23rd and 24th July, titled 'Two Days, Two Plates, Two Firings, Too Easy'. For details see the News Page..
PAWA 'Art Deco' inspired Exhibition
Read article and see photos from the May 2022 PAWA annual exhibition and sale of work - visit the News Page..
Three-day Workshop - Silhouettes
See report and photos from the three day workshop - 'Silhouettes' with artist Anne Blake. For article see News Page plus for more comment and photos visit the special workshop news page.
For other news and events visit the News Page.
UPCOMING EVENTS
September
7th to 10th
APAT 18th Australasian Exhibition & Convention, Melbourne Victoria
September 24 to October 1
Perth Royal Show 2022
Theme: Wildflowers
For details visit Calendar and Events Page
---